Natural Color Ptfe Polytetrafluoroethylene Sheet High Temperature Plastic Sheet
About PTFE sheet
PTFE Sheet is molded, skived or cut from 100% virgin PTFE. It has the best chemical corrosion resistance among known plastics, without being aging, lowest friction coefficient.
PTFE skived Sheet is manufactured by technique of compacting, sintering, rotary cutting with PTFE granular resin. It has good dielectric performance and non-aging, best anti chemistry corrosion ability and wide applying intension range.
PTFE molded sheet is manufactured by molding process with PTFE regular resin and sintering. It is very suitable for seals, lining, diaphragm, spacer guide and bearing pad for bridge.
About PTFE Material
PTFE material PTFE resin is in a class of paraffinic polymers that have some or all of the hydrogen replaced by fluoride. PTFE material has excellent resistance for all chemical corrosion. In fluoroplastics, PTFE got the most consumption and was used widely. It's an important material in variety of fluoroplastics. Its friction coefficient is the lowest in plastics, and is ideally suited for the manufacture of corrosion-resistant gaskets & seals..Temperature changes do not affect its electrical insulation property. One of the most chemically resistant materials available, PTFE also handles continuous service temperatures approaching 500F((280°C). It also has a high oxygen level. So PTFE often be called "plastic king". PTFE is suitable for making corrosion resistant parts, wear parts, seal, insulation parts and medical equipment parts.
PTFE sheet are moulded, skived or cut from 100% virgin PTFE. It has the best chemical corrosion resistance among known plastics. Without being aging, lowest friction coefficient, wear resistance. The unloaded operating temperature range is -180~+260C.

Features:
(1)Superior endurance in corrosion
(2)Superior endurance in seasonal change
(3)Non-flammable, limited oxygen index is under 90.
(4)Low friction coefficient
(5)Non-viscous
(6)Superior endurance in high & low temperature, can be used -190 to 260°C.
(7)High electricity insulation
(8)High electricity resistance coefficient
(9)Self-lubricating
(10)Atmospheric aging resistance
(11)Radiation-resistant properties and low permeability

Typical Technical Data of PTFE Semifinished Materials




Property




Unit




Value




Density




Gms/cc




2.13- 2.30




Tensilestrength




Kg/cm2




≥200




Elongation




%




≥250




Impactstrength




Kg.cm/cm2




≥13




Compressivestrengthat1%def.




Kg/cm2




≥40




Coefficientofthermalconductivity




Deg C




1.23×10-4




Volumeresistivity




Ohmcm




≥1018




Surfaceresistivity




Ohm




≥1017




Safe Operating temperatures



Deg C

- 50 to 250
(biological,pharma,foodapplications)
- 50 to 280
(Non-bio/food/pharma applications)



Dielectricstrength




KV/mm




≥60




Moisture /solvent absorption




-




Negligible




Combustibility




-




Non-combustible




Weatherresistance




-




Excellent




Chemicalresistance






Excellent,except for highly fluorinatingagents

NORMAL DIMENSION:

| | | |
| --- | --- | --- |
| Size(mm) | Thickness(mm) | Tolerance |
| 150X150 | 1.0~30 | ±0.30~±0.50 |
| 250X250 | 1.5~30 | ±0.30~±0.50 |
| 300X300 | 1.5~30 | ±0.30~±0.50 |
| 450X450 | 1.5~30 | ±0.30~±0.50 |
| 600X600 | 1.5~30 | ±0.30~±0.50 |
| 800X800 | 1.5~30 | ±0.30~±0.50 |
| 1000X1000 | 1.5~30 | ±0.30~±0.50 |
| 1200X1200 | 2~30 | ±0.30~±0.50 |
| 1000X2000 | 3~35 | ±0.30~±0.60 |
| 1500 X 1500 | 3~35 | ±0.30~±0.60 |
| 2000 X 2000 | 5~35 | ±0.30~±0.60 |
Product Show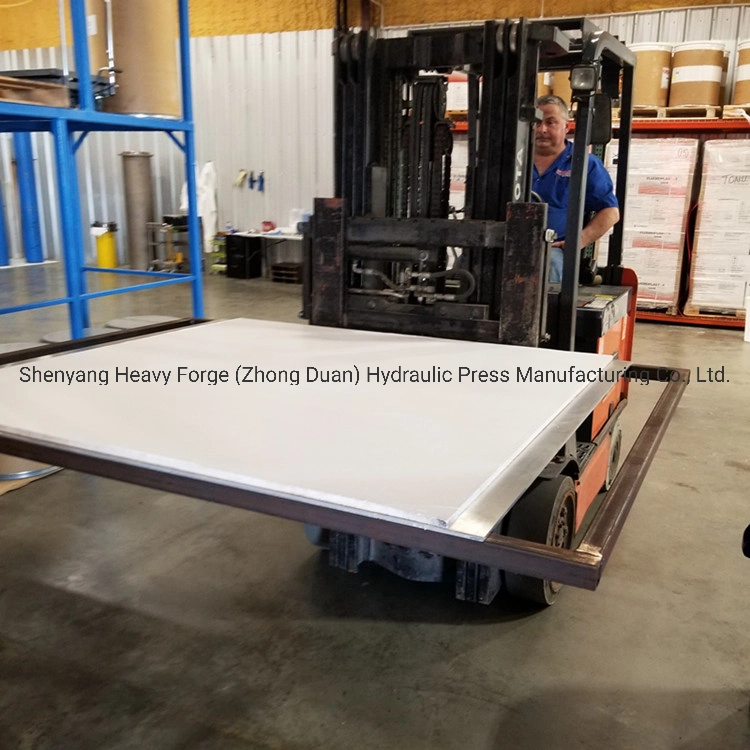 Contact:

Web: syhpress.en.made-in-china.com
Tel: 0086-24-89334005
Mob: 0086-15840381665