Portable Ammonia Detector-Ammonia Tester-Indoor Air Ammonia Detector,R & D sales[ONETEST]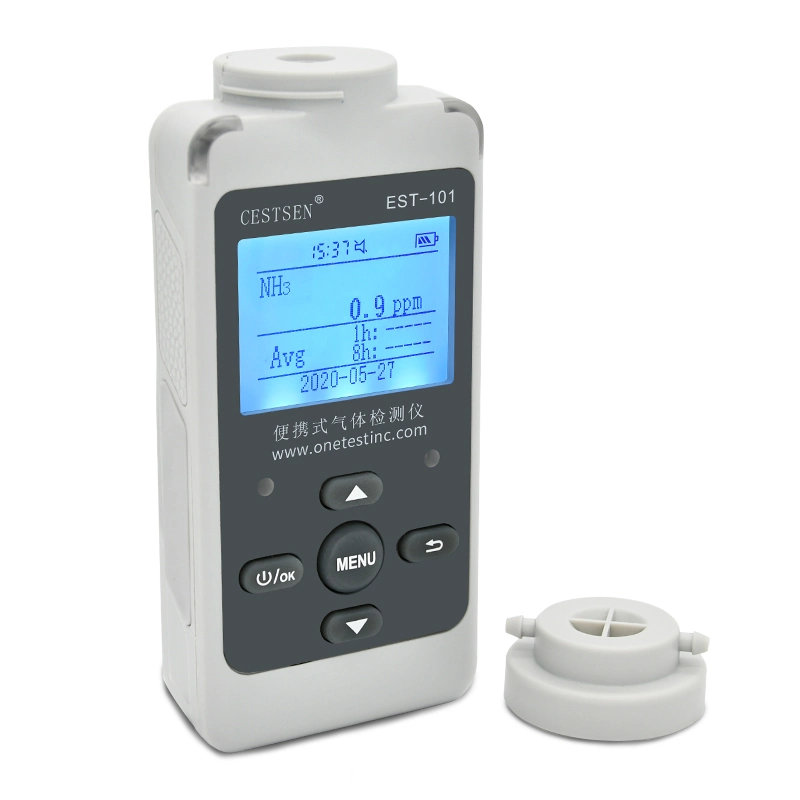 Shenzhen Wanyi Technology Co., Ltd. has used the technology of American Environmental Sensor Technology Company to develop the CESTSEN brand gas detector for nearly 20 years. The company specializes in the research and development, production, sales and after-sales service of gas detection equipment. The sensor core component sensor is provided by sensor manufacturers from the United States, Britain, Germany, etc., and can be used after careful selection by the Wanyi technology engineer team. With strict calibration method in the laboratory, Wanyi Technology strives to create gas detection equipment with high accuracy, safety, easy operation and reliable quality for the industry customers.
EST-101-NH3 ammonia gas detector is a portable gas concentration measuring instrument. It adopts high-precision circuit design. The core adopts imported sensor chip. After Wanji Technology develops calibration, signal amplification, calibration calibration and strict testing, it is delivered to the factory. .
The instrument is designed and produced in accordance with relevant national standards:
GB/T18883-2002 "Indoor Air Quality Standards" GB3095-1996 "Environmental Air Quality Standards"
GB50325-2010 "Code for Indoor Environmental Pollution Control of Civil Building Engineering"
GB50325-2001 Code for indoor environmental pollution control of civil construction projects
GB12358-2006 "General technical requirements for workplace gas detection and alarm devices" industrial standard
EU 2002/231/CE Directive Taiwan's "Indoor Air Quality" Standard
EMC electromagnetic compatibility related test standard, European standard EN55022, American standard FCC
Mainly used:
Disease control medical public places, occupational health and health testing
Chemical pharmaceutical, agricultural ammonia is used in the manufacture of ammonia, nitrogen (urea, ammonium bicarbonate, etc.), compound fertilizer, nitric acid, ammonium salt, soda ash, etc., widely used in chemical, light industry, fertilizer, pharmaceutical, synthetic fiber and other fields.
Farms, public toilets, landfills, waste gas treatment, etc. Nitrogen-containing inorganic salts and organic intermediates, sulfa drugs, polyurethanes, polyamide fibers and nitrile rubbers are all directly based on ammonia.
Refrigeration industry Liquid ammonia is often used as a refrigerant
Features:
High quality sensor for stable and reliable performance.
External power supply DC5V, built-in rechargeable battery.
Intelligent design, automatic detection at startup, no operation, zero calibration is convenient.
It has the function of restoring factory settings to prevent misoperation.
Supports ppm and mg/m3 unit conversion.
Configuration method LCD liquid crystal display technology, can display gas type, unit, concentration value, 1 hour and 8 hour average, date and time.
The instrument has a weighted concentration value viewing function for 1 hour, 8 hours, and time period, which is in line with the national indoor air quality testing standard.
With alarm function, it can set high and low alarm value, two-level sound and light alarm, and two high-brightness LED lights remind users to pay attention when alarming.
The instrument is small and light, and can be easily placed in a pocket or bag.
ISO9001 quality certification, ISO14001 environmental system certification, can pass the national measurement certification.
Optional sampling pump for safe measurement of closed spaces such as pipes, tunnels and test chambers.
Configuration parameter:
Model

Gas

Range

ppm

display resolution
ppm

Sensitivity

ppm

Precision
T90
EST-101-NH3-100
Ammonia
0-100
0.1
0.5
±5%F.S.
<60S
The sensitivity is the minimum test concentration of the instrument. The above is the measurement range of the conventional gas concentration. If other ranges are required, the sensitivity can be customized.
Electrical performance:
External power supply: 5VDC/500mA
Battery type: lithium ion battery
Battery voltage: 3.7V (charge limit 4.2V)
Battery capacity: 1600mAh
Shutdown current: <0.1mA
Starting current: <10mA
Alarm current: <50mA
Protection level: dustproof
Alarm mode: Level 2 sound and light alarm
Alarm error: ≤ ± 10% alarm set value
Data storage: none
Signal output: none
Dimensions: 120*60*35mm
Machine weight: ≤250g (with battery)
Test object: ammonia
Detection method: diffusion
Detection principle: Electrochemistry
Working temperature: -20 ° C -45 ° C
Working humidity: 0-85% RH
Display mode: LCD screen
Air pressure range: 860-1060hpa
Warm-up time: 120 seconds
Response time: T90<60S
Service life: 2-3 years (in the air)
Zero drift: ≤ ± 2% FS / 6 months
Span drift: ≤ ± 5% FS / 6 months
Repeatability: ≤±2%